Is PayPal a bank or a convenient service for customers? AMZN is considering offering a similar service. EBAY has done a good job of keeping PayPal out of regulatory hot water. The day will come when online payment systems grow again in the US. Under the new regulations, it would be nice to insert a check into an electronic reader and not have to go to the bank, but then why mail the check anyway?

EBAY has been hammered in recent weeks. The long-term growth story is still there. The company is spending hundreds of millions to "win" China. If you do not appreciate the importance of China, see my earlier link. At its current rate of growth, China will quickly go from 7th largest economy to 1st. EBAY is sinking resources into China because EBAY understands what is at stake.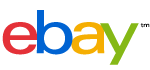 If EBAY wins in China, the stock will enjoy explosive growth for the next 20 years. In the meantime, EBAY will continue to chip away at making PayPal the most used online system of payment in Europe and around the world. PayPal is a low margin business but the number of transactions is already huge. Buy EBAY and forget you own it. Buy it for the grand-children.